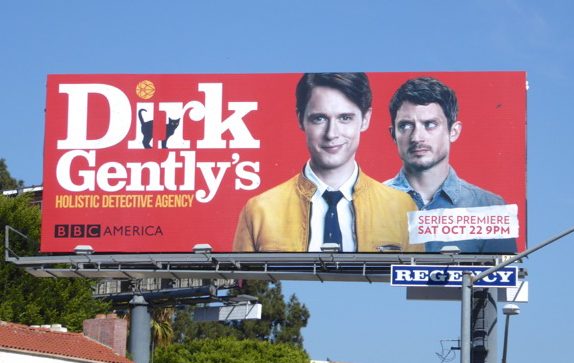 My wife and I have been watching Dirk Gently's Holistic Detective Agency, whose extraordinary season finale was in December, and I would highly recommend it if you enjoy shows such as Dr. Who, Orphan Black, Sherlock, or Mr. Robot. It stars Samuel Barnett as a self-described "holistic detective" who claims to follow the currents of the universe in order to solve mysteries, and Elijah Wood as his unwillingly deputized assistant. Together (eventually) they attempt to unravel a mysterious crime in which several men in a penthouse suite have been found torn apart and huge bite marks are left behind on the suite's walls and ceiling.
Dirk Gently's Holistic Detective Agency is a joint production of BBC America and Netflix, so it is widely available.
What is especially exceptional about this program is the fact that it has intricate and mysterious plotting that is actually well resolved. How refereshing! Every bizarre and extraordinary event is eventually explained, every hanging thread eventually tied up. Or, at least, as much is realistically possible in a story that includes such paradoxical oddities as soul swapping and time travel.
It's definitely an issue for me as a viewer when television programs are filled with mysteries and plot twists that never actually resolve into anything. Doing this is a writer's cop-out, and ought to be scorned by the viewing public in general, but instead has become the foundation for many successful television programs such as Twin Peaks, The X-Files, Lost, Orphan Black, and Mr. Robot (to name only a few). Instead of actually having to come up with an interesting and coherent plot (which is very difficult), the writers for these programs simply throw the imitation of mystery and suspense at viewers in a series of head fakes, a kind of shuck and jive act, where one suspense piles on top of another and every time it seems like any underlying mystery is going to be revealed the revelation is instead substituted for a new and even more insrutable myster, so that the viewer's attention is distracted away with yet another surprise or plot twist which is itself never actually destined to be resolved either. Writing programs in this way has the especial advantage that a show can be spun on endlessly, season after season, for as many years or decades as its fan base continues to cling to it.
As far as I know, Twin Peaks was the original innovator of this type of programming, and shamelessly ended with most of its main characters all going coincidentally to a bank one morning and being blown up together in a random bombing (thus 'tying up' all of the show's loose threads, which were virtually infinite by that point in time). Telling you is not even a spoiler for the show, because this ending where everyone died had no real relevance or connection to anything else that happened in the show's entire plot. Hilarious as such an ending is, it also is also juvenile and an insult to the viewer. All the mysteries, allusions, and bizarre events we were intrigued by had actually had no underlying rhyme or reason, they had been puked in our collective faces at random.
Well, the awesome thing about Dirk Gently's Holistic Detective Agency is that it is a lot like Twin Peaks, and The X-Files, and Orphan Black, but with a legitimate story arc and a plot that actually does explain all of the show's bizarre events and scenarios by the season's end. Every twist and turn happens for a reason, every bizarre character has a background that is not being made up on the fly, the mysterious forces at play behind the scenes will eventually all be unmasked — in short, it is everything great about those other programs plus everything that they lacked. In shorter: it's amazing.
I thought that the explanation for Dirk Gently's amazing plotting could be attributed to the fact that it is based on a Douglas Adams novel of the same name. In novels there is still a precedent and desire by readers for plots that actually resolve themselves. But after reading some plot synopses of the titular Douglas Adams novel it becomes clear that this television show was only very loosely based on the book. Credit, apparently, must go to the program's creator, a 31 year old tv and film screenwriter with a background in comic book writing named Max Landis. Kudos to you, sir!
Oh yeah, and the acting is also pretty damn good.